Alpine Ontario Events Calendar
Use this link to view the Alpine Ontario Events Calendar. It is a great resource for parents and racers to see the dates proposed for Race Invitationals, AOA Training Camps, OCUP race schedules and other events. Parents/Guardians and racers should review the AOA Events Calendar regularly since the dates of events can change or new events are added throughout the season. https://www.alpineontario.ca/calendar/
Alpine Ontario News
Use this link to view regular News Releases from Alpine Ontario: https://www.alpineontario.ca/newsreleases/
AOA Training Camps.
Each season, AOA offers training camps for racers starting at the U10 age level. These camps typically last 1-2 days and are normally hosted in the Northern Toronto/Barrie area. Many Batawa racers attend these training camps throughout the season. Most occur on weekdays, usually Thursdays and/or Fridays. There is a fee for the camps charged by the AOA. Registration for the camps is also managed by the AOA. Please check this link to learn more about the camps. As well, talk to your coach to learn more and they can direct you to other Batawa racers that have taken the camps as well. https://www.alpineontario.ca/alpine-ontario-alpin-racing/camps/
AOA Parenting/Guardian Handbook (2022)
The AOA parent/guardian handbook is designed to help AOA parents/guardians to find basic information about AOA including who we are, what we do, important dates and more. Also included are tips such as what to say to your kids, what NOT to say, how to navigate the ride home from races and how to reframe both winning and losing. The 2022 version has now been published. See this link for more information. https://batawaskiracing.com/wp-content/uploads/2022/11/2022-Parent-Handbook-FINAL.pdf
AOA Racing Pathway
Alpine Ontario has developed a racer pathway alongside Sport for Life and Alpine Canada's LTSD Plan. You can use the chart below to see how young racers can progress throughout the various pathways to success in the Alpine Ontario/Canada programs. For more details on this program please view this link. https://www.alpineontario.ca/alpine-ontario-alpin-racing/alpine/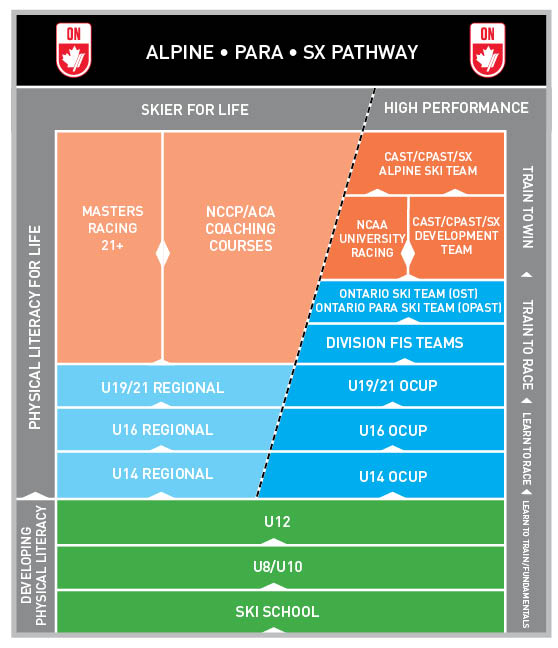 Alpine Ontario – Alpine Programs
This Alpine Ontario page contains information and links to details related to Schedules, Racing Age Groups, Training Camps, Coaching Resources and more. https://www.alpineontario.ca/alpine-programs/
Alpine Canada Long Term Athlete Development
The link below outlines Alpine Canada's Long Term Athlete Development program. The LTAD (long term athlete development), formerly referred to as the AIM 2 WIN guide, was developed by Alpine Canada as a long-term skier development plan for coaches, managers, administrators, parents, teachers and volunteers. The plan breaks down development into seven stages and provides training strategies and progressions for future elite athletes. The LTAD should be used by all clubs across the country as a pathway to success for young skiers.
As part of the revisions to the organization's Long-Term Athlete Development Pathway, Alpine Canada has created a stand-alone LTAD web site that provides a one-stop resource for all aspects of athlete development – from recreational racers to those working towards national team goals. https://ltad.alpinecanada.org/