This page will be updated for the 2023/2024 season as we learn more about any potential Covid-19 policies or mandates that may impact our club.
Batawa Ski Racing Club (BSRC) is required to be in compliance with Ontario's Chief Medical Officer of Health, the province of Ontario's Regional Public Health Units (PHUs) and Alpine Ontario in order to operate this upcoming ski season. As a result, each member, coach and board member of BSRC will be required to follow the risk mitigation protocols established by those organizations in order to ensure everyone's health and safety during this upcoming season.
This page includes important information that needs to be reviewed by each member as well as those interested in joining our race club. In addition, each racing participant, or parent/guardian if they are minors, will be required to print, sign and return the Alpine Ontario Sport Participant COVID-19 Agreement to the BSRC before the racer will be permitted to participate or race with the BSRC.
BATAWA SKI RACING CLUB / ALPINE ONTARIO RETURN TO SPORT PLAN:
The PDF link below contains the Batawa Ski Racing / Alpine Ontario Return to Sport 2021 document. It details your responsibilities as a member of BSRC and Alpine Ontario as well as protocols we will be adopting and following for this upcoming season. All parents/guardians for minor racers as well as adult racers, coaches and BSRC Board Members need to read the Alpine Ontario Sport Participant COVID-19 Agreement that is included in the PDF as well. The Alpine Ontario Return to Sport portion of the document will be included as part of the Batawa Ski Racing Club's online registration process and needs to be agreed to in order to participate this season. Please click this link to view the document (PDF format):
https://batawaskiracing.com/wp-content/uploads/2021/10/Batawa-Ski-Racing-Club-Return-to-Sport-Plan-2021-2022-Season.pdf
BATAWA SKI RACING CLUB COVID-19 OPERATING PROTOCOLS
The Batawa Ski Racing Club is committed to protecting the health and safety of our racers, coaches and volunteers. We will be following the Covid-19 guidelines established and recommended by the Government of Ontario, the local Health Unit, Alpine Ontario and Batawa Ski Hill.
Alpine Ontario has released their updated Covid-19 policy published on November 29, 2021. It can be found on the Alpine Ontario site here. A direct link to the full policy is available here: https://batawaskiracing.com/wp-content/uploads/2021/12/COVID-19-AOA-Event-Vaccination-Policy-November-30-2021.pdf. BSRC is required to follow the Alpine Ontario policy.
BSRC has established a plan as part of our operating protocols. Below are the protocols required of our racers and member families in order to safely participate in our ski racing program.
Self Screen. On the day of a practice or race, at their residence, each family will be required to self-screen their racer as well as the person transporting the racer to the facility where the activity is occurring. Before your racer leaves your residence, please use this link for a self screening tool:
https://covid-19.ontario.ca/school-screening/
If a racer does not pass the screening, they will not be permitted to participate.
Masks. Masks are always mandatory when social distancing (2 metres) cannot be maintained outdoors. When assisting an athlete, anywhere on the hill, in the lift line or when riding the lift, both Coaches and Athletes must be masked.
Proof of Documentation. This protocol requires all Racing Athletes ages 12 and up as of December 31, 2021, all Coaches and all Volunteers to provide one of the following:
1. proof of all required vaccination doses approved by the World Health Organization;
2. written proof of a medical reason, provided by either a physician or nurse practitioner that sets out: a. that the person cannot be vaccinated against COVID-19; and b. the effective time for the medical reason (i.e., permanent, or time-limited). Alpine Ontario has released a Covid-19 policy here that BSRC will follow. Any accommodation requests will need to be approved by Alpine Ontario before BSRC will consider them.
Unvaccinated Individuals. Unvaccinated individuals over the age of 12 as at December 31, 2021 must provide a weekly completed rapid antigen test result for COVID-19 and demonstrate a negative result as directed by the BSRC. The athlete must provide the negative rapid antigen test verification to the BSRC at the first practice of the week (Wednesday, Thursday or Saturday depending on the age group of the athlete). In the event of a failed test result, the racer will not be permitted to participate in that practice or event.
Operating Safely. During training sessions or races, BSRC will follow the COVID-19 measures outlined in the Alpine Ontario Return to Sport Plan included earlier on this web page. For reference, those items are specifically referred to in parts 2 and 3 of this document:
https://batawaskiracing.com/wp-content/uploads/2021/10/Batawa-Ski-Racing-Club-Return-to-Sport-Plan-2021-2022-Season.pdf
If the vaccination age eligibility changes, our board of directors will review our requirements and communicate to the membership any changes that we feel are best for the safety and health of our membership.
LEARNING MORE ABOUT COVID-19
Alpine Ontario. How to Stay Safe.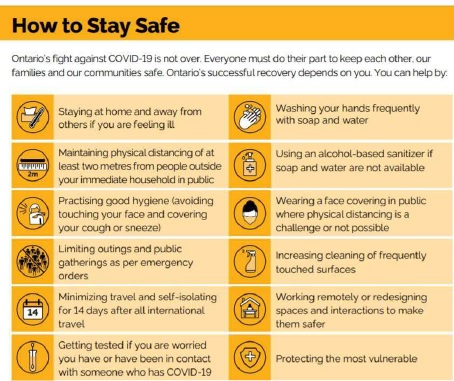 Learn more about COVID-19 here:
https://www.canada.ca/en/public-health/services/diseases/2019-novel-coronavirus-infection.html
Understand the risks and transmission routes of COVID-10 here:
http://www.cma.ca/sites/default/files/pdf/COVID19-guide.pdf
Reduce the spread of COVID-19. Learn more here:
https://www.canada.ca/en/public-health/services/publications/diseases-conditions/cleaning-disinfecting-public-spaces.html